Kyle Hamilton Signed By Nine Racing For Turkey Night Grand Prix
Laguna Beach, California (October 20, 2010)—2009 USAC National Pavement Ford Focus Champion and 2009 USAC Regional Midget Champion Kyle Hamilton has been signed by Nine Racing to drive the #9 midget in the prestigious 70th running of the Turkey Night Grand Prix at Toyota Speedway at Irwindale, on Thursday, November 25, as the Nine Racing team returns to an active role in USAC Regional and National events.
"Kyle Hamilton is an up-and-coming young driver who has won races and championships in several USAC divisions and we look forward to having Kyle driving the #9 midget that we have entered in the Turkey Night Grand Prix," said Steve Lewis, owner of the Nine Racing team.
"I look forward to being a part of the Nine Racing effort for the Turkey Night Grand Prix," added Kyle Hamilton. "I am excited to work with Dave Steele and Glenn Martin along with the entire crew to learn their approach for being fast at this important race."
Kyle Hamilton is a Danville, Indiana, native who started his racing career in quarter midgets. He earned the 2005 Mini Indy Speedway Light 160 Champion quarter midget title and was named the US 24 Speedway Rookie of the Year in micro sprints in 2006. The following year he earned the USAC Kenyon Midget Championship, and in 2008 won both the USAC Indiana and Midwest Ford Focus Championships. Kyle gained even more attention in 2009 after winning the USAC National Pavement Ford Focus Championship while also claiming the USAC Regional Midget Championship title driving his father's #33 midget where he won four races. Kyle is a senior at Danville Community High School and participates in the school's cross country and track program where he has excelled as a long distance runner. Kyle has developed a loyal sponsor following that includes Curtis Motor Sales, Big T's Auto Salvage, General Piping Mechanical Contractors, and Earls Indy.
The annual Turkey Night Grand Prix event has brought the Nine Racing team a number of trophies. Stan Fox won the event in November of 1990, which also happened to be the final race at Ascot Park, and then repeated in 1991 by winning the race when it was held at Saugus Speedway. Nine Racing claims four Turkey Night Grand Prix wins at Toyota Speedway at Irwindale with drivers Jason Leffler, Tony Stewart, Bobby East and Dave Darland.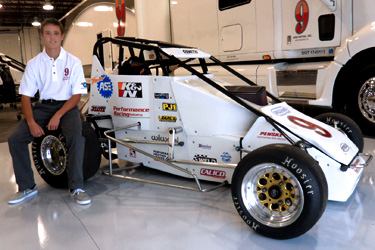 Nine Racing Returns to Thanksgiving Event
Kyle Hamilton will compete in the prestigious 70th Annual Turkey Night Grand Prix for Nine Racing.