Dylan Cappello To Make Ford Focus Debut At Turkey Night Grand Prix
Laguna Beach, California (October 22, 2010)— Current Arizona Modified Midget driver Dylan Cappello has been signed by Nine Racing, Inc. to drive in the USAC Western Ford Focus Championship race, which will be a part of the 70th annual Turkey Night Grand Prix event at Toyota Speedway at Irwindale on Thanksgiving evening, November 25.
Dylan began his driving career at the age of seven in 1/4 midgets, and the 14-year-old student at Liberty High School in Peoria, Arizona, has amassed over 100 main event wins including five Gasoline Alley National feature wins and four Grand National Championships. In 2008 Dylan started running modified midgets and earned the Rookie of the Year award by finishing 5th in the series. Dylan finished the 2009 Arizona Modified Midget season 2nd in points and received the hard charger award for passing the most cars for the season. Dylan has earned five main event wins and 11 top-10 finishes so far in 2010.
"We are excited to have Dylan make his pavement Ford Focus debut in our Nine Racing Ford Focus car at Toyota Speedway at Irwindale," said Nine Racing team owner Steve Lewis. "I was able to watch Dylan in his early days in 1/4 midget racing at Pomona, California, and it will be a rewarding experience for our team to work with Dylan and get him prepared for his Ford Focus debut."
"I can't wait to get to Irwindale as this opportunity is a dream come true," added Dylan Cappello.
Nine Racing, Inc. has expanded its racing services programs for young drivers to participate in Ford Focus racing events. The Nine Racing team headquarters are in Brownsburg, Indiana, and its driver development programs are offered for both the USAC Junior Focus and USAC Ford Focus Midget series. For additional information and all the latest news on how to become a part of the Nine Racing Driver Development Program, contact Glenn Martin at 317/ 858-7503.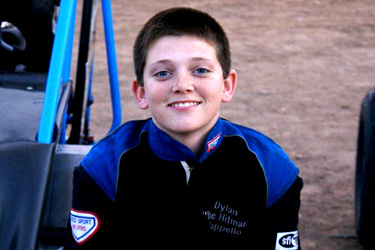 Turkey Night Debut

Fourteen-year-old Dylan Cappello will drive a Ford Focus Midget for Nine Racing at the 70th running of the Turkey Night Grand Prix on Thursday, November 25, at Toyota Speedway at Irwindale.