Ireland's Alastair Jackson Signed By Nine Racing For 2011 USAC Regional Midget Series
Laguna Beach, California (October 25, 2010)— Veteran Firestone Indy Lights, Asian and British Formula 3 driver Alastair (Ali) Jackson has committed to run a Nine Racing, Inc. midget in the 2011 USAC Regional Midget Car Series.
A native of Ireland, Ali started his racing career in karting and then quickly moved up the ranks and participated in the Formula 3 Asia Championship in 2006 and finished the season with four victories and at the time became the youngest driver to win in series history. In 2007 he moved to the competitive British Formula 3 series and drove part time for the Raikkonen Robertson Racing team and finished 9th in points. Ali continued running in various Formula 3 events for the next couple of years and then in 2009 came to the United States and participated in the Indy Lights Series. That same year Ali made several appearances in USAC Regional series events.
"Alastair has a tremendous background racing in competitive series around the world and we are pleased to have the opportunity to have Alastair be a part of our Nine Racing USAC program for the coming season in the USAC Regional Midget Car Series," said Steve Lewis, owner of the Nine Racing team.
"I look forward to returning to the United States to be a part of the Nine Racing midget program where I will gain valuable oval track experience and be competitive in the USAC Regional Midget series," added Ali. "My pre-season training camp is already underway at Wossobama Gym in Scotland with my trainers Paul Kelly and Ally Smith."
Ali will drive one of the Nine Racing BEAST pavement midgets with Esslinger power under the watchful eye of Team Manager Glenn Martin. Former Indianapolis Speedrome Champion and Turkey Night Grand Prix Winner Billy Wease will provide Ali the coaching support during test sessions and race events.
Nine Racing has expanded its racing services programs for young drivers to participate in various USAC Midget and Ford Focus Midget series events for the coming season. For additional information and all the latest news on how to become a part of the Nine Racing Driver Development program, contact Glenn Martin at the Nine Racing team headquarters in Brownsburg, Indiana, at 317/858-7503 or visit www.nineracing.com.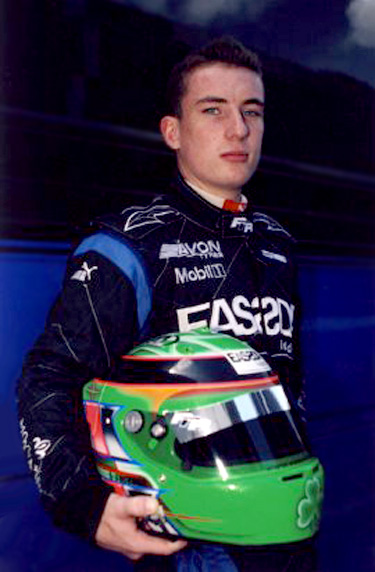 Alastair Jackson to Race for Nine Racing

Ireland's Alastair (Ali) Jackson eagerly awaits the start of the 2011 USAC Regional Midget Series as he will drive for Nine Racing.