Rain Stops Dillon Welch From Speedrome Main Event Start
Brownsburg, Indiana (August 1, 2011) — Carmel, Indiana native Dillon Welch had a busy couple of days with two back-to-back USAC Mopar National Midget Series pavement events on Thursday and Friday nights the last week of July.
After earning a top 10 finish at Lucas Oil Raceway on Thursday, Dillon and the Nine Racing team came to Bryant Heating and Cooling Indianapolis Speedrome for the Pure Power Technologies & UAW 100 Mel Kenyon Classic. 100-lap event on Friday night. Everything looked perfect from the weather standpoint through practice and qualifying, but off in the distance black clouds could be seen forming.
Dillon drove the St. Vincent Sports Performance, Z-Line Designs, The Studio #9 midget and qualified 12th with a time of 11.878, which was just a couple of tenths off the new track record time set by Kyle Larson with a lap of 11.622.
Dillon started the 10-lap heat on the pole and got a great start, then went to work to stay out in front of a hard charging Darren Hagen.
When the checkered flag waved, Dillon Welch crossed the finish line first and picked up his first USAC National heat race win at the famous Indianapolis Speedrome 1/5 mile oval. "I have not been to the Speedrome this year at all, but I had success here last season and I was confident that we could run well here tonight. Dave Steele and Krieg Polland worked hard to get the car dialed in, and by the time the heat race came around, we had the car perfect. I was hoping the black clouds would not head towards The Speedrome so we could run the 100-lap feature. I was excited about my chances for a good finish," adds Dillon.
The rains did come and The Speedrome management decided after a lengthy wait to cancel the evening's event. The 100-lap feature would be rescheduled for a later date.
"Dillon Welch is a quick learner. Every time he went out on the track, he improved his lap times considerably. We are looking forward to running Dillon again late in the season at the Thanksgiving Grand Prix at Toyota Speedway at Irwindale," states Steve Lewis, team owner.
Dillon's sponsors are: St. Vincent Sports Performance, Z-Line Designs Furniture, The Studio, BioStorage, Validated Custom Solutions and CASE Home Remodeling.
Nine Racing's 2011 sponsor lineup includes K&N Engineering, Eibach Springs, Weld Racing, Klotz Synthetic Lubricants, Penske Racing Shocks, Performance Friction Brakes, ASE, Earl's Performance Plumbing, SSi Decals, PJ1, and Hoosier Racing Tire.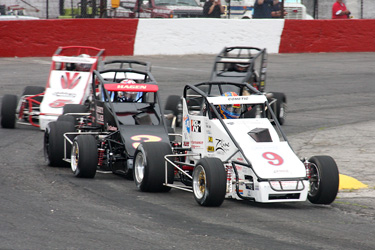 Dillon Welch leads the pack during the third heat race Friday night at the Speedrome. Dillon eventually won the heat and recorded his first National USAC heat race win.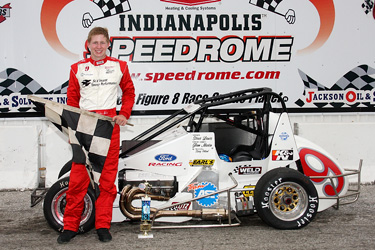 Dillon taking a moment for Speedrome photographers after winning the third heat on Thursday at The Speedrome USAC National Series event.