Billy Wease Returns To Chili Bowl Nationals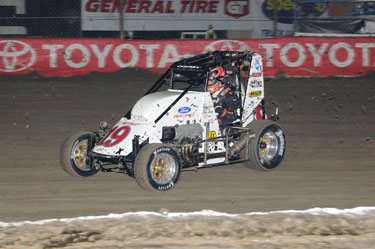 Billy Wease kicks up some serious dirt while driving the #19X of Nine Racing during the 26th Annual Chili Bowl Nationals, in Tulsa, Oklahoma, last week.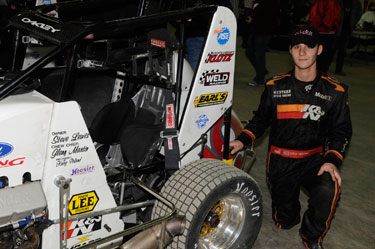 Billy Wease kneels next to the #19X of Nine Racing as he prepares for his heat race, which he won, during the 2012 Chili Bowl Nationals.

(Photos by Miles Chrisinger)
Brownsburg, Indiana (January 18, 2012) — After a strong performance at the 22nd Chili Bowl Nationals in 2008, where he battled through a number of races to reach Saturday's A Main, Billy Wease jumped into the #19X of Nine Racing and returned to the 26th Annual Chili Bowl Nationals last week.
The five-day midget racing event drew over 260 entries to the Tulsa, Oklahoma, QuikTrip Center's Tulsa Expo Raceway.
Billy, of Noblesville, Indiana, began the event strong by winning his heat race on Wednesday, January 11, by holding off a charge from Jimmy Voitel. Billy then finished 4th in the A Qualifier #4 and transferred to the A main on Wednesday where he finished in 21st position.
He was able to race again on Saturday, where he finished 7th in the D Main 2, but unfortunately, only the top six transferred to the C Main, and he just narrowly missed moving to the next race.
"It was great to be back in the driver's seat of the Nine Racing midget," said Billy Wease.
"Unfortunately, we just missed transferring to the C Main, which ended our night. I want to thank the entire Nine Racing team, including my crew chief Glenn Martin, for giving me a great car."
Billy's sponsors for the Chili Bowl Nationals were Ed Pink Racing Engines and Adams & Mehling Accounting, Inc.
Nine Racing's 2012 sponsor lineup includes K&N Engineering, Eibach Springs, Weld Racing, Klotz Synthetic Lubricants, Penske Racing Shocks, Performance Friction Brakes, ASE, Earl's Performance Plumbing, SSi Decals, PJ1, and Hoosier Racing Tire.