Quarter Midget Veteran Ross Rankine Signed By Nine Racing
Brownsburg, Indiana (March 28, 2011) — Ross Rankine, of New London, Ohio, has been signed by the Nine Racing, Inc. team to compete in the USAC Midwest Pavement Ford Focus Championship this coming season. The 14-year-old USAC .25 racer has won multiple championships throughout his quarter midget racing career, including earning the USAC .25 Light 160 and Senior Animal titles in 2010.
"We are extremely pleased and excited to have Ross as a part of our Nine Racing Ford Focus program," said Steve Lewis, Nine Racing team owner. "Ross has demonstrated that he understands how to win races and gather points for championships already. Plus, he has experience in the Ford Focus cars that will give him a good baseline of information to start with."
Ross has committed to run all 15 USAC Midwest Pavement Ford Focus events. Recently Ross made his Ford Focus West Coast debut in the Kevin Gerhardt Western Speed car at Lake Havasu and set quick time before going on to a dominating feature win.
"I look forward to running the #9 Ford Focus car this summer and working with crew chief Glenn Martin," added Ross. "It is going to be fun to be able to race at the Indianapolis Speedrome as well as other tracks where I can compete with the best drivers in the USAC Ford Focus series."
Nine Racing has expanded its racing services programs for young drivers to participate in various USAC Midget and Ford Focus Midget series events for the coming season. For additional information and all the latest news on how to become a part of the Nine Racing Driver Development program, contact Glenn Martin at the Nine Racing team headquarters in Brownsburg, Indiana, at 317/858-7503 or visit www.nineracing.com.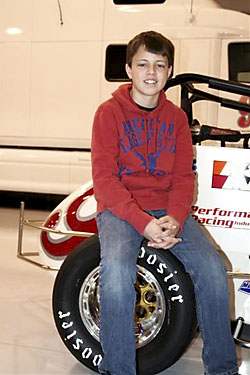 Fourteen-year-old Ross Rankine is a veteran championship winner in the quarter midget ranks and will move to the USAC Midwest Pavement Ford Focus Championship in 2011 while driving 15 races for Nine Racing.