Young Ryan Krachun Successfully Tests Nine Racing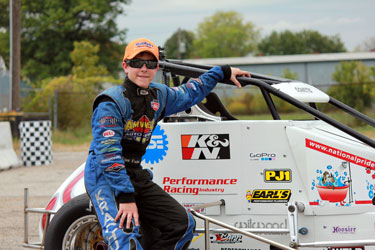 Ryan Krachun is all smiles after taking his first ride in a full-sized Ford Focus Midget of Nine Racing. Ryan completed nearly 60 laps during his test session on Thursday, September 22, at the Bryant Heating & Cooling Indianapolis Speedrome.
Brownsburg, Indiana (September 29, 2011) — After winning multiple championships in the USAC .25 Midget program this season, 13-year-old Ryan Krachun, of Neshanic, New Jersey, climbed into a full-size Ford Focus Midget of Nine Racing Inc. for the first time to test the car at the Bryant Heating & Cooling Indianapolis Speedrome on Thursday, September 22. Ryan plans to make the jump into Ford Focus Midgets for the 2012 season.
"We met Ryan and his father Mike at the Milwaukee USAC race event in June and determined that Ryan was more than ready to have a test session in our Ford Focus Midget," said Nine Racing team owner Steve Lewis. "We waited to test Ryan until now so he could focus on doing well in the USAC .25 Midget Series."
Ryan quickly adapted to the Ford Focus Midget from the much smaller .25 Midget. "He learned quickly," added Billy Wease, of the Nine Racing team, who helped Ryan with how to approach the Speedrome's 1/5-mile paved oval.
"Driving a full-sized midget race car for the first time was really an exciting experience for me," exclaimed Ryan Krachun. "Billy Wease and Glenn Martin took good care of me and it really helped to have them explain how to approach the line. Pretty soon I was comfortable and having fun."
Ryan capped his .25 Midget career with five championships in 2011. He ended the USAC Next Generation and Dirt Triple Crown Series by winning the "B" class in both series, and earned the Light 160, Light World Formula and Sr. Animal titles in the Dirt Triple Crown, as well as placing 3rd in the Light 160 Next Generation series.
Nine Racing's 2011 sponsor lineup includes K&N Engineering, Eibach Springs, Weld Racing, Klotz Synthetic Lubricants, Penske Racing Shocks, Performance Friction Brakes, ASE, Earl's Performance Plumbing, SSi Decals, PJ1, and Hoosier Racing Tire.