Ford Focus Champion Ross Rankine Seeks Full House At Ace Speedway USAC Event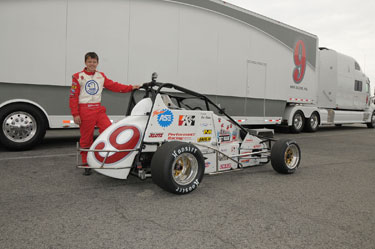 After clinching the 2011 USAC Midwest Focus Midget Pavement Championship, Ross Rankine returns this season in the #9 Focus Midget of Nine Racing as he seeks another title.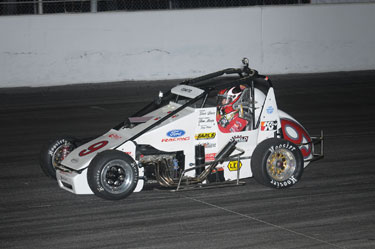 Ross Rankine had a stellar 2011 race season, ending the season on top by winning the 71st running of the Turkey Night Grand Prix at Irwindale Speedway (seen here), in the #9 Focus Midget of Nine Racing.
Brownsburg, Indiana (March 20, 2012) — 2011 USAC Midwest Focus Midget Pavement Champion Ross Rankine seeks to continue his winning streak from last season as he kicks off the 2012 USAC Focus Midget Pavement season in less than two weeks at the 4/10-mile Ace Speedway, in Altamahaw, North Carolina, March 30–31.
Earning three main event wins and a total of eight podiums in the 12-race USAC Midwest Focus Midget Pavement Series last year, including the Focus Midget portion of the prestigious Turkey Night Grand Prix event at Irwindale Speedway, Ross will again compete in the #9 Focus Midget of Nine Racing, which is the same car that he drove to the 2011 championship.
"I am looking forward to getting back in my Ford Focus Midget to race in North Carolina and start the season off strong," said Ross Rankine. "My crew chief Glenn Martin has been working very hard getting my car ready for this first race and I look forward to the challenge of racing with the North Carolina drivers."
"We are very pleased to have Ross Rankine back with our Nine Racing team for the 2012 season," added Steve Lewis, Nine Racing team owner. "The USAC Ford Focus Series is an ideal place for young drivers to showcase their talents. It is good to see that USAC has scheduled many of the Ford Focus events with the National USAC pavement events."
Ross has committed to a full season of Ford Focus racing with the Nine Racing team that begins with the two-day show occurring at Ace Speedway at the end of March.
Ross Rankine's sponsor lineup for 2012 includes National Pride Equipment, Eibach Springs, MPD, Bell Helmets, Colors by Barr, and 4 Paws Pet Wash.
Nine Racing's 2012 sponsor lineup includes K&N Engineering, Eibach Springs, Weld Racing, Klotz Synthetic Lubricants, Penske Racing Shocks, Performance Friction Brakes, ASE, Earl's Performance Plumbing, SSi Decals, PJ1, and Hoosier Racing Tire.