Levi Roberts Has Strong Showing At Chili Bowl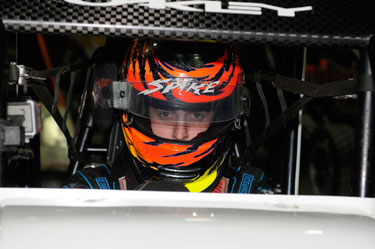 Levi Roberts prepares to head out onto the track at the QuikTrip Center's Tulsa Expo Raceway, in Tulsa, Oklahoma, for the the 26th Annual Chili Bowl Nationals.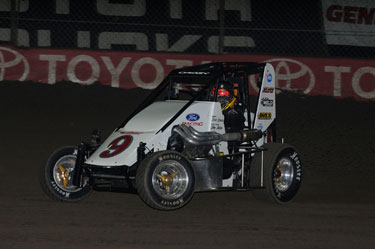 Levi Roberts competed with over 260 other drivers at the 26th Annual Chili Bowl Nationals to earn his way into Saturday's B Main race. The event featured five days of racing where midget racing's top competitors gather to kick off the new race season.
Brownsburg, Indiana (January 16, 2012) — In a field of over 260 midgets, Levi Roberts was able to narrow through all the various heat and main races in the #9 midget of Nine Racing during the five-day 26th Annual Chili Bowl Nationals, January 10-14, 2012, to earn his way to the B Main race on Saturday's event finale.
The Broomfield, Colorado, native drew number 34 on Friday for that evening's races in the QuikTrip Center's Tulsa Expo Raceway, which put the #9 midget of Nine Racing on the inside of row two in the 7th heat. Levi went on to win his heat race, then started fifth in the qualifying race, where he finished 4th. Levi started the A Main feature event in 8th and finished 13th for the night, which put him starting in 6th position for the C Main on Saturday.
After Friday's races, Levi said, "The #9 car is fast. I want to thank Glenn Martin and the Nine Racing team for such a fast car, and we are ready for tomorrow."
Saturday in the C Main 2, Levi finished in 4th position. Since the top-six transfer to the B Main, he moved up one more race, starting 22nd and passing a number of cars, but finished 9th, narrowly missing his chance to make his first A Main race at the Chili Bowl Nationals as the top six advance.
"We missed the A Main by just three spots," said Levi. "But, it was still a good week for us as we got close to making it into the A Main. It was really enjoyable for me to again work with Glenn and the entire Nine Racing crew at the Chili Bowl."
Levi is sponsored by Majestic Metals.
Nine Racing's 2012 sponsor lineup includes K&N Engineering, Eibach Springs, Weld Racing, Klotz Synthetic Lubricants, Penske Racing Shocks, Performance Friction Brakes, ASE, Earl's Performance Plumbing, SSi Decals, PJ1, and Hoosier Racing Tire.