Ross Rankine Takes Second At Indianapolis Speedrome Ford Focus Event
Brownsburg, Indiana (June 23, 2011) — Ross Rankine, of New London, Ohio, carried his momentum of being fast recently at Columbus Motor Speedway into a terrific performance by earning second place in the USAC Midwest Ford Focus Series main event at the Bryant Heating and Cooling Indianapolis Speedrome on Wednesday, June 22.
Ross worked closely with Nine Racing crew chief Glenn Martin and Speedrome expert Billy Wease during the practice sessions to get up to speed and ready for the heat race. Ross started the 10-lap Ford Focus heat race in fourth position and immediately went to work to gain positions. Unfortunately, a racing incident occurred on the opening lap, which collected several race cars. As a result, Ross had to start from the back of the pack but ended up finishing the heat race in fifth, which placed Ross on the inside of the second row to start the main event.
As the green flag waved, Ross immediately jumped into second place. During the race he slipped back to fourth, but reclaimed second by the end of the 50-lap main event.
"My car was really good all night long so I could pass cars," said Ross Rankine. "I just did not have enough to get by Nick Drake tonight who was really hooked up."
As a result of the consistent finishes in the Ford Focus main events to date, Ross is currently ranked second in USAC Midwest Ford Focus points, only 18 points behind leader James Robertson.
"Ross has been quick at every Midwest Ford Focus event this season and we expect he will earn a feature win soon," said Steve Lewis, Nine Racing team owner. "He is working hard and he is developing his skills and improving at each race event."
Ross's next race driving the #9 Ford Focus Midget will be on Wednesday, June 29, again at the Bryant Heating and Cooling Indianapolis Speedrome.
Nine Racing's 2011 sponsor lineup includes K&N Engineering, Eibach Springs, Weld Racing, Klotz Synthetic Lubricants, Penske Racing Shocks, Performance Friction Brakes, ASE, Earl's Performance Plumbing, SSi Decals, PJ1, and Hoosier Racing Tire.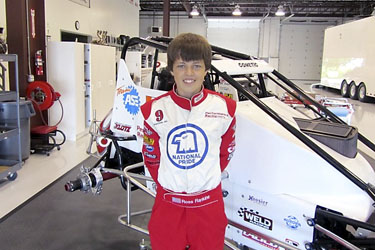 Ross Rankine is seen here in the Nine Racing shop in Brownsburg, Indiana, as he prepared for the team's visit to the Bryant Heating & Cooling Indianapolis Speedrome on Wednesday, June 22. Ross finished the 50-lap main event in second place, which places him second in the USAC Midwest Ford Focus Midget Series championship.