Nine Racing Returns To Dirt Track Racing
Brownsburg, Indiana (August 2, 2011) — After a 2 1/2-year absence from dirt track racing, Nine Racing returned to Junction Motor Speedway on Friday, July 29, for the two-day Cornhusker Midget Challenge.
Up-and-coming midget driver Levi Roberts climbed into the #9 midget and drove the familiar pearl white midget around the 3/8-mile Junction Motor Speedway, in McCool Junction, Nebraska. On Friday night, Levi started 4th in his heat race and moved up one position to finish in 3rd. The feature lineup was determined by passing points, so Levi started in 15th. At the start of the race, he was boxed in and was forced back to 18th, however, he quickly found his racing line and passed a number of cars to finish the race in 7th.
"The start of the feature race wasn't what I expected," said Levi, "but I was able to stay calm and began passing cars. I am very excited to have moved up so many spots to finish the race in 7th."
Levi and Nine Racing stayed in town for the second part of the Cornhusker Midget Challenge on Saturday, July 30. Levi started the heat race in 6th and worked up to 4th when the checkered flag flew. In the main event, Levi started in 12th position, and unfortunately left the race with 10 laps to go when he was running in 9th position due to mechanical problems.
"Levi drove a great race on Friday night," said Glenn Martin, crew chief for Nine Racing. "We were very impressed with his determination and how he was passing cars. We're disappointed with what happened to the car on Saturday, but we will take what we learned at Junction Motor Speedway and apply it to the Belleville Midget Nationals this weekend."
"I can't begin to explain how much fun I had on Friday and Saturday nights," added Levi. "I know that Saturday may not have ended like we had hoped, but we were honestly one of the cars that everyone had their eyes on all weekend, and I'm proud of that. Glenn Martin had the car perfect, and everything operated smoothly. I can't wait to get in the car again this weekend at Belleville. I am confident that the more time I spend behind the wheel, and the more Glenn and I work together, we will soon be a threat to win every week."
Levi Roberts and the Nine Racing team will compete in the 34th Annual RevHoney Belleville Midget Nationals at the Belleville High Banks, in Belleville, Kansas, on Friday and Saturday, August 5 and 6th.
Nine Racing's 2011 sponsor lineup includes K&N Engineering, Eibach Springs, Weld Racing, Klotz Synthetic Lubricants, Penske Racing Shocks, Performance Friction Brakes, ASE, Earl's Performance Plumbing, SSi Decals, PJ1, and Hoosier Racing Tire.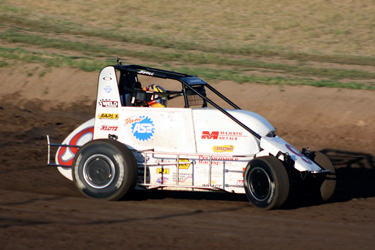 Levi Roberts took the #9 midget of Nine Racing back to dirt track racing at the two-day Cornhusker Midget Challenge at Junction Motor Speedway, in McCool Junction, Nebraska, on Friday and Saturday, July 30 and 31, 2011.