Levi Roberts Gains More Dirt Track Experience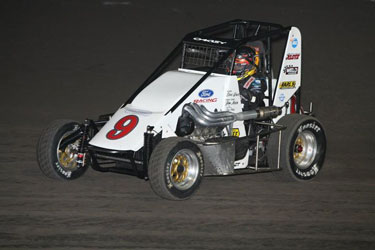 Levi Roberts drove the #9 midget of Nine Racing at the recent Gold Crown Midget Nationals at Tri City Speedway. Levi made a strong showing by winning a heat race, scoring a second in a heat race, and finishing second in the B-main #2.
(Photo courtesy of Chris Wilner.)
Brownsburg, Indiana (October 11, 2011) — Coming from an asphalt track background, Levi Roberts continues to make the transition to dirt track racing, and drove the #9 midget of Nine Racing in the 3rd annual Gold Crown Midget Nationals this past weekend at Tri City Speedway in Pontoon Beach, Illinois.
The attractive $10,000 prize to win Saturday's final race drew 56 midgets to the three-day event.
Racing action began on Thursday, October 6, and Levi started off strong by winning his heat race and collected enough passing points to earn a front-row starting position in the 25-lap main event. At the start of the race, however, Levi made contact with another car and slipped back a number of positions to eventually finish the feature in 17th.
Then on Friday evening Levi ran 2nd in his heat race, which gave him enough points to start 15th in the main event. During the 25-lap main event, Levi showed promise as he was passing cars but during the process made a slight mistake that cost him a good finishing position and ultimately finished the Friday main event in 22nd.
On Saturday night Levi made a strong showing in the B-main #2 and finished second behind Kyle Larson and just ahead of Thomas Messeraul. Throughout the weekend Levi earned enough points to be able to start the Saturday night 50-lap feature in 10th. Again Levi showed great promise as he passed cars and would gain ground and then via circumstances would lose a spot or two. When the checkered flag waved, Levi finished 17th.
"Glenn Martin and Krieg Polland gave me a fast race car this weekend, which allowed me to make all three features and to be competitive," said Levi Roberts. "I just need more time on dirt and then I can take advantage of the speed that I have to work with. It is good to see so many cars and drivers at this race and it was really fun to put on a great show for the crowd. I look forward to coming back here next year to race again in the Gold Crown Midget Nationals."
Levi will be back in the Nine Racing #9 midget for the final USAC National points event of the 2011 season for the 71st running of the Thanksgiving Grand Prix at Toyota Speedway at Irwindale, on November 24.
Nine Racing's 2011 sponsor lineup includes K&N Engineering, Eibach Springs, Weld Racing, Klotz Synthetic Lubricants, Penske Racing Shocks, Performance Friction Brakes, ASE, Earl's Performance Plumbing, SSi Decals, PJ1, and Hoosier Racing Tire.