Lucas Oil Raceway Proves Challenging To Levi Roberts
Brownsburg, Indiana (July 29, 2011) — Levi Roberts, of Broomfield, Colorado, arrived at Lucas Oil Raceway at Indianapolis on Thursday, July 28, for the USAC Mopar National Midget Series event with high expectations. Even though he qualified the #91 of Nine Racing in 14th position, he was only a half-second behind the leader, showing the competitiveness of the midget field.
Although Levi started the main event farther back in the pack, he was able to move up several positions and claimed 11th place when the checkered flag flew, even after a late-race spin, which showed Levi's determination for a strong finish.
"Obviously, I would have liked a better finish this evening," said Levi, "but we still ran a strong race and we learned how we can improve the car for the next event. I'm looking forward to running some dirt races at Junction Motor Speedway and then on to Belleville."
"Levi showed strength tonight when even though our team struggled a bit through the race, he still managed to pick up some positions," said Steve Lewis, Nine Racing Team Owner. "Levi has a very promising future, and 11th is not indicative of what he is capable of. We will come out full-force at Junction Motor Speedway, in Nebraska, tonight and tomorrow, and then we'll set our sights on winning the Belleville Midget Nationals next week."
Nine Racing's 2011 sponsor lineup includes K&N Engineering, Eibach Springs, Weld Racing, Klotz Synthetic Lubricants, Penske Racing Shocks, Performance Friction Brakes, ASE, Earl's Performance Plumbing, SSi Decals, PJ1, and Hoosier Racing Tire.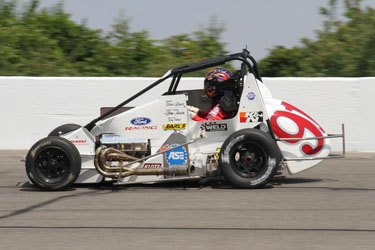 Despite a late-race spin, Levi Roberts still managed to work his way back through the pack and claimed an 11th-place finish at Thursday, July 28's USAC Mopar National Midget Series event at Lucas Oil Raceway at Indianapolis while driving the #91 midget of Nine Racing. (Photo by John Mahoney)