Dillon Welch Claims Top-8 Finish at Turkey Night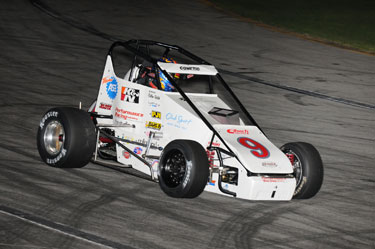 Dillon Welch drove the #9 of Nine Racing to an eighth-place finish at the 71st running of the Turkey Night Grand Prix at Toyota Speedway at Irwindale on Thursday, November 24, 2011.
Dillon Welch meets with fans before the 71st running of the Turkey Night Grand Prix.
Irwindale, California (November 25, 2011) — Dillon Welch made his second trip to Toyota Speedway at Irwindale count as he earned eighth place while driving the #9 of Nine Racing in the 71st running of the Turkey Night Grand Prix, on Thursday, November 24.
This prestigious USAC National Midget Series event draws midget racing's best to Southern California from across the nation, including Dillon who made the trek from Carmel, Indiana.
Dillon qualified the #9 midget in 20th position. Before the feature race began, Dillon described Toyota Speedway at Irwindale as the "most competitive track we run on. I really enjoy coming out here and look forward to a strong finish."
Dillon stressed the importance of patience in order to move up during the 98-lap feature race, and that's what he concentrated on as he began passing cars through the field, which included 35 midgets.
By lap 6 Dillon had already worked his way up to 17th position. After a caution flag, Dillon started lap 66 in 12th place. After another caution ended, Dillon found himself restarting lap 81 in 10th position. He worked the remaining laps in an intelligent manner to finish the race in 8th place.
Dillon candidly admitted that he worked his way up several positions at the end of the race because "I was mad at myself more than anything. I wasn't going to let driver error cost us a good finish so I got up on the wheel and drove it."
Dillon added that he was pleased with the car and thanked Nine Racing's pavement specialist Dave Steele who "worked his magic and had us hooked up."
Dillon Welch is sponsored by St. Vincent Sports Performance, Z-Line Designs, The Studio, BioStorage Technologies, CASE Remodeling, Validated Custom Solutions, Sullivan Hardware, Brownsburg Muffler, Average Joe's, Row Printing and Windsor Jewelers.
Nine Racing's 2011 sponsor lineup includes K&N Engineering, Eibach Springs, Weld Racing, Klotz Synthetic Lubricants, Penske Racing Shocks, Performance Friction Brakes, ASE, Earl's Performance Plumbing, SSi Decals, PJ1, and Hoosier Racing Tire.