Dillon Welch Earns Top-10 at Lucas Oil Raceway
Brownsburg, Indiana (July 29, 2011) — Seventeen-year-old and experienced midget racer Dillon Welch climbed into the #9 midget for his first race driving for the Nine Racing team at Lucas Oil Raceway at Indianapolis, on Thursday, July 28, and brought the car home in 10th place.
Dillon started the night by qualifying 12th for the USAC Mopar National Midget Series event, but was able to gain a few positions during the 30-lap feature race.
"Growing up here in Indiana, I always enjoyed watching the #9 midgets, and now to be able to actually drive the car in front of my home crowd was a dream come true," said Dillon. "I definitely learned a lot tonight from the help of my crew chief Glenn Martin, which I'll be sure to apply for my next race tomorrow."
"Dillon drove a steady race and he is already showing signs that he is open to learn and how he can improve as a race car driver," added Steve Lewis, Nine Racing Team Owner. "We look forward to working with Dillon for the remainder of the USAC Mopar National Midget Pavement series."
Dillon's next race will be tonight at the Bryant Heating & Cooling Indianapolis Speedrome, again in the #9 midget.
Dillon Welch is sponsored by St. Vincent Sports Performance, Z-Line Designs, The Studio, BioStorage Technologies, CASE Remodeling, Validated Custom Solutions, Sullivan Hardware, Brownsburg Muffler, Average Joe's, Row Printing and Windsor Jewelers.
Nine Racing's 2011 sponsor lineup includes K&N Engineering, Eibach Springs, Weld Racing, Klotz Synthetic Lubricants, Penske Racing Shocks, Performance Friction Brakes, ASE, Earl's Performance Plumbing, SSi Decals, PJ1, and Hoosier Racing Tire.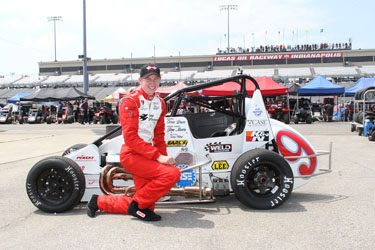 Dillon Welch drove the #9 Nine Racing midget for the first time at the Lucas Oil Raceway on Thursday, July 28, 2011. Dillon qualified 12th, but was able to earn a top-10 by finishing the main event in 10th. (Photo by John Mahoney)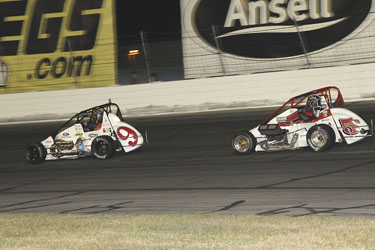 Dillon Welch is seen here leading Zach Daum during Thursday night's USAC Mopar National Midget Series event at Lucas Oil Raceway at Indianapolis. (Photo by John Mahoney)