open-house-event
Brownsburg, Indiana — On a beautiful Indiana spring day the last week of May, the Nine Racing facility doors were opened at the Southpoint Circle Brownsburg shop to treat fans and sponsors with the opportunity to come inside and see firsthand the ultra modern shop where the Nine Racing midgets are housed and prepared.

Team Manager Glenn Martin had the shop perfectly organized, and unveiled the new entryway photo display that covers the history of Nine Racing achievements from the very beginning.

Throngs of guests arrived and filtered through the building, stopping to chat with drivers Kevin Swindell and Billy Wease and a number of the team sponsors. Team owner Steve Lewis put on his chef hat and kept the carne asada tacos and hot dogs coming off the grill in a timely fashion. On display in the shop were the three BEAST pavement midgets, all prepared for the ORP Night Before The 500 race. The newly converted Ford Focus pavement midget and the three Spike dirt midgets were also on display. All the midgets are now powered by Esslinger Engineering engines tuned by Dan Esslinger.

"It was great seeing everyone again. For many, this was their first time in our shop. It was fun cooking the hot dogs and carne asada tacos. We served five dozen hot dogs and went through ten pounds of carne asada, so I know everyone was well fed," exclaimed Steve Lewis.

On Saturday night following the big open house event, the two Nine Racing midgets charged dramatically to the front at ORP's Night Before The 500 race. Wease finished in 6th place after starting in the 16th position. Swindell had a tire go down after he had gotten to 7th place from the 20th starting position, ending the race for him.

Nine Racing, Inc. has been operating for 29 years, and has earned 133 National USAC feature wins and 10 USAC National Midget Series Championships. Now for the first time, Nine Racing offers specialized Racing Services Program for young and talented drivers to further hone their skills and compete at the highest levels of midget racing. For more information, go to www.nineracing.com.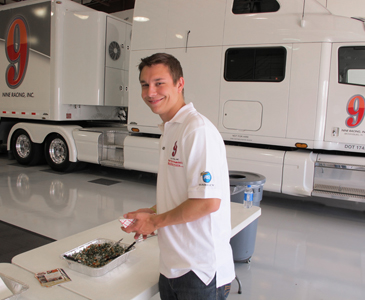 Testing the carne
Driver Kevin Swindell testing the carne asada tacos.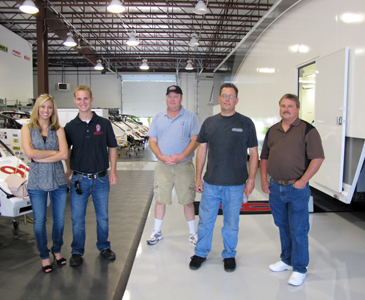 House Guests
Billy Wease (second from left) along with engine builder Dan Esslinger (second from right) enjoying spending time with open house guests.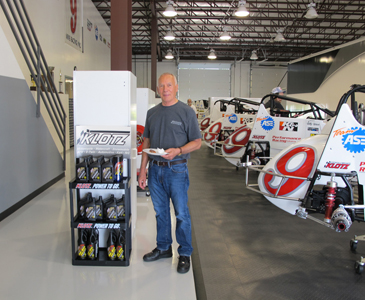 Proud Sponsor
Klotz oil owner John Klotz stands proudly by the team's Klotz Oil display.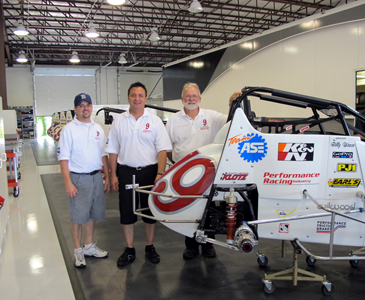 Working Hard

The hardworking Nine Racing crew consists of (left to right) Krieg Polland, Glenn Martin and Rusty Kunz.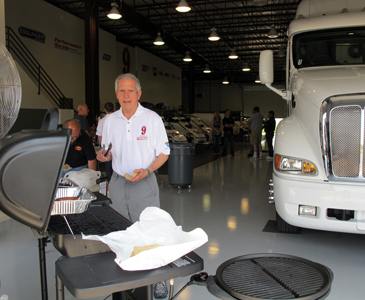 Chef Lewis
The chef hard at work.