Levi Roberts Fast At Belleville But Plagued By Bad Luck
Brownsburg, Indiana (August 8, 2011) — Broomfield, Colorado's Levi Roberts has been honing his dirt track skills this season in preparation for the 34th annual Belleville Midget Nationals. He recently ran well in his Majestic Metals Nine Racing #9 midget at Junction Motor Speedway, so there were high expectations for Levi running at Belleville for the second time in his young career.
On Friday night Levi Roberts qualified the Nine Racing #9 midget 12th as 25 midgets made a qualifying attempt. Levi started fourth in his heat and finished a strong second. He began the feature race in 11th position and worked his way up to 7th but then a series of late race caution flags hurt Levi's chances for a better finish because of problems on the restarts. At the checkered flag, Levi finished the Friday night feature in 12th.
"We had a fast car on Friday night," said Levi Roberts. "I was working up through the pack and got to 7th place. I felt we had the car to go even farther when a series of yellows came into play and we just did not re-start that well, so I lost positions that I could not get back."
The Saturday night Belleville program does not include qualifying. As a result, a pill draw takes place for all drivers to determine heat race lineup assignments. Levi started 6th in his heat race and worked up to the front. As he was passing for the lead, the car he was passing spun and crashed. Levi had to get off the throttle and therefore lost a couple of positions to finish the heat in third place. This gave Levi the opportunity to start the feature event in ninth position. In the early stages of the Saturday night feature Levi was able to keep pace with the lead pack but then suddenly with no warning the engine quit and that was the end of Levi Roberts' 34th annual Belleville Midget Nationals experience.
"It felt great to be competitive at Belleville and I appreciate the hard work of Glenn Martin who kept the car in good shape all weekend long," added Levi. "I want to return here next year and give Belleville another try. It is a special place and I really like racing here."
Levi Roberts has committed to the Nine Racing team for the annual Turkey Night Grand Prix at Toyota Speedway at Irwindale, on Thanksgiving, as well as the possibility of some additional dirt races between now and Turkey Night.
Nine Racing's 2011 sponsor lineup includes K&N Engineering, Eibach Springs, Weld Racing, Klotz Synthetic Lubricants, Penske Racing Shocks, Performance Friction Brakes, ASE, Earl's Performance Plumbing, SSi Decals, PJ1, and Hoosier Racing Tire.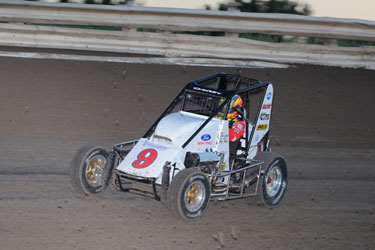 Levi Roberts made his second visit to the annual Belleville Midget Nationals on August 5 and 6. Levi was fast in the Majestic Metals Nine Racing #9 midget, but bad luck prevented him from earning a top finish. (Photo by Miles Chrisinger)